Officials in the Department of Culture, Sports and Tourism in the Mekong Delta province of Vinh Long have uncovered a long standing nexus among contractors in obtaining major projects for their own favored people so as to appropriate State funds.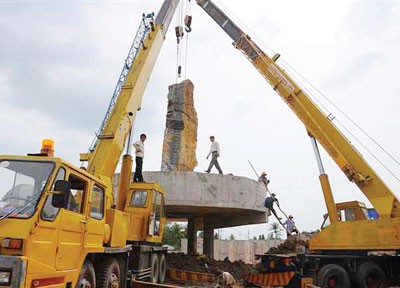 Construction site of Vung Liem District Monument (Photo: SGGP)

Bui Huu Tri, in charge of basic construction at the department, had helped unqualified contractors win contracts for a number of projects for the restoration and repair of cultural and historical sites, for a percentage.
Pham Tien Ngo, director of the Thanh Tien private company in Binh Minh District, had obtained several contracts for projects sanctioned by the department.
In September last year, Ngo was assisted by Tri to win two contracts worth VND20 billion (US$952,000) to build the Vung Liem District Monument, although he was not a qualified contractor.
On October 24, the department transferred VND390 million ($19,000) to Thanh Tien Company. Ngo immediately paid Tri VND100 million the following day.
Three days later, Thanh Tien Company received a further VND2.8 billion ($133,000) and Ngo gave Tri VND400 million as his commission.
From January 10 to June 21, 2012, the department transferred another VND8.9 billion ($424,000) to Ngo and Ngo paid Tri a total of VND1,020 million.
According to initial investigation, Tri received VND2 billion for helping contractors win bids to implement six major cultural and historical projects in the province.
Tri said that the money he received from contractors, including Ngo, was also shared by Nguyen To Tranh, the department's director, and Tran Le Dong, chief accountant at the department.
When Ngo met with difficulties in carrying out the projects, Tri proposed that Tranh help out, and then both received commission money from Ngo in return for their 'help'.
Tri and Dong also made fake documents and contracts to appropriate VND239 million from the State budget in connivance with the director Nguyen To Tranh.
Authorized organs are continuing to investigate the case. At present, Pham Tien Ngo has been arrested for bribery. Bui Huu Tri and Tran Le Dong have also been arrested for receiving bribes and embezzling public property.

Nguyen To Tranh has been suspended from his position as department director and is under investigation.