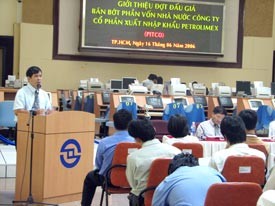 More companies want to list in the year by income tax incentives. (Photo: T.C)
Ministry of Finance has issued a letter to repeal the tax incentive for listed companies to comply with new regulations and the development of the stock market.
The Ministry of Finance issued a letter on September 8 to cancel two previous letters from October 2004 and April 2005, which provided income tax incentives for listed companies.
The issuance of the new letter complies with regulations on legal documents and the development of the securities market in the future and its will come into effect by next year.
Institutions which have their stocks listed or registered for trading on stock exchanges before January 1 2007 will continue to receive tax incentive until that date.
In case listing institutions are currently in the tax remission period stated in the Law on Corporate Income Tax, the incentive period for having stock listed will be added when the period stated in the income tax law expires.
Related Articles:
Fried Shrimp Chips Join the Stock Exchange
The Market Will Be Livelier
Laws on Securities, Lawyers and Legal Support Validated