A Vietnam-Laos-Cambodia ministerial meeting was held in Hanoi yesterday, November 15, to work out measures to prevent drug trafficking.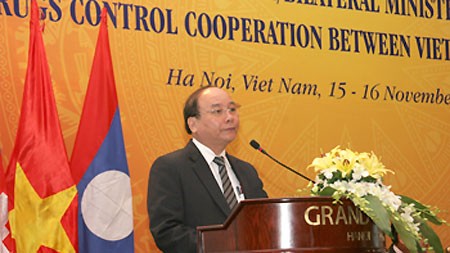 Deputy Prime Minister Nguyen Xuan Phuc delivers his speech at the meeting (Photo: VNExpress)
The meeting attracted more than 90 delegates who all work in the field of drug prevention and control.
Addressing the meeting, Deputy Prime Minister Nguyen Xuan Phuc affirmed that the Government of Vietnam has paid due attention to combating illicit drugs and drug-related crime. As a result, the numbers of drug users have declined remarkably, while drug production areas have been gradually eliminated.
Participants agreed to strengthen cooperation in controlling illicit drugs and pledged support to each other in dealing with drug-related crime.
They stressed the need to share information regularly and fight trans-national drug crimes, especially in border areas.
The delegates also suggested comprehensive cooperation among regional countries in realizing the ASEAN work plan on combating illicit drug production, manufacture, trafficking and abuse in the period 2009-2015, with a view to developing a drug-free ASEAN community by 2015.
Meanwhile in Ho Chi Minh City, Nguyen Thi Thanh Thuy and her accomplices received harsh sentences by the People's court for trafficking drugs from Laos and Cambodia.
Nguyen Thi Thanh Thuy, from Go Vap District in Ho Chi Minh City, organized a group to purchase synthetic drugs from Laos and Cambodia to Vietnam, dragging her husband along with many other accomplices.
According to the indictment of the Procuracy in Ho Chi Minh City, from August 2010, Nguyen Thi Thanh Thuy began buying drugs from the criminals in Cambodia.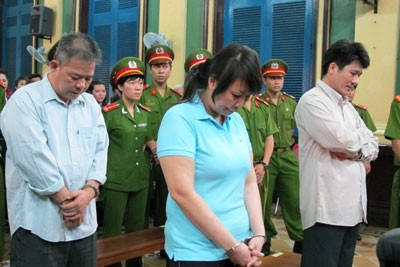 Liem, Thuy and Nam at the court trial (Photo: SGGP)
Ngo Minh Liem, Thuy's husband, Nguyen Hac Long, Nguyen Thi Tuyet and Tu Hai Nam from Binh Chanh District in HCMC also joined the gang.
On December 23, 2010, when the gang was delivering drugs to a 'customer' he was arrested by the Drug Crime Investigation Police of Ho Chi Minh City.
Later the police agency arrested and searched houses of the other members of the drug gang.
They all confessed that they had purchased 1,500 grams of synthetic drugs. The police also discovered and seized 99,9284 grams of methamphetamine and ketamine from Tu Hai Nam's house, a member of the gang.
From November 7 to 9, Ho Chi Minh City People's Court brought the case to trial and sentenced Thuy to life imprisonment, Liem to 20 years, Long to 18 years and Tuyet to 18 years in prison on charges of 'illegal trafficking of drugs.'
Other defendants received from seven years to 15 years in prison for 'illegally stockpiling drugs.'