Government inspection teams have just found illegal computer software in use at three companies, including a foreign one, in Hanoi and Ho Chi Minh City.
The task force, from the Inspectorate of the Ministry of Culture, Sports and Tourism and High-tech Crime Police (the Ministry of Public Security), have in the past few days raided one company in the capital and two in Ho Chi Minh City.
The two Vietnamese companies checked by the inspectors were Vinaconex Xuan Mai Consulting and Design, headquartered in the Trung Hoa Nhan Chinh Residential Area, Hanoi, and Hoang Linh Investment, Design and Construction, located at 436A/71, Ba Thang Hai Street, District 10, HCMC.
Earlier, the task force in the end of July raided the foreign-invested design company Graham Taylor Designs, Level 11, Saigon Finance Center Building, 9 Dinh Tien Hoang Street, District 1, HCMC.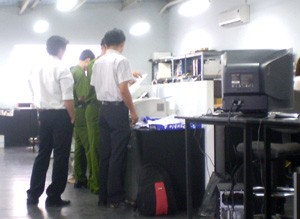 Government inspectors check computers at company Graham Taylor Designs in Ho Chi Minh City's District 1 in the end of July (Handout photo from the inspection team)
At Graham Taylor Designs, the inspectors found various software programs installed in the company's computers for business purposes. The programs included LacVietMtd 2002, Microsoft and Adobe software packages, software used in designing such as AutoCAD 3DS Max and various versions of AutoCAD.
From now to the end of the year, inspection of compliance to software copyright laws and regulations will be further stepped up in local, joint venture and foreign companies in Vietnam, according to sources from the Ministry of Culture, Sports and Tourism.