A man was arrested by the police in the central province of Ha Tinh on January 4 for swindling people of millions.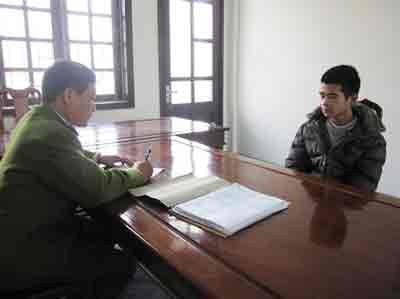 Le Manh Hung ( R) questioned at the police station
According to senior Lieutenant Nguyen Van Canh, head of the Investigation Police Squad, Le Manh Hung, born 1993 in district Can Loc of Ha Tinh province was arrested for conning and defrauding many people from the northern province of Quang Ninh to the central province of Ha Tinh.
Hung placed ads on the internet to sell motorcycles without the required registered documents at low discount rates. Anyone interested must deposit anything from VND 2 -10 million.
However, he never delivered the motorcycles to a single customer and thereby doped gullible people of huge amounts of money.
The police are continuing to investigate this case thoroughly at the moment.