Sai Gon Giai Phong recently interviewed Dr. Phan Van Bau, Deputy Director of the Department of Health about the Law on Organ Donations, which came into effect on July 01: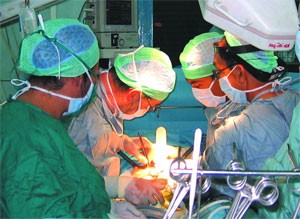 A case of liver transplant conducted at the Children's Hospital 2 in Ho Chi Minh City

Reporter: Would you please tell our readers more about the meaning and the importance of organ donations in our country?

Dr. Phan Van Bau:

We now need an increasing number of donated organs for medical research and transplant surgery. Since the first successful case of organ transplant in 1992, we have had a further 163 successful cases, those include 153 kidney transplants, 4 liver transplants and 1 marrow transplant – a significant achievement within 15 years. Thanks to their modern facilities, high technologies and skillful trained professionals, there are now ten hospitals in the country that can conduct kidney transplants.

Despite the fact that some hospitals in Viet Nam can conduct organ transplants and that the need for transplants is on the increase, relatively few transplant surgeries have been carried out here because not many people are willing to donate their organs. For instance, there are over 5,000 cases of kidney failure that need curing each year. In Ha Noi, 1,500 patients are awaiting liver transplants and are at risk of losing their lives, whilst over 5,000 patients nationwide need cornea transplants.

Because the demand for donated organs drastically exceeds the supply, some patients suffering from kidney and liver failure in Viet Nam currently have no choice but to fly to China to have transplants.

The Ministry of Health has set a plan for now until 2020, under which, Vietnamese professionals will conduct 3,000 liver, kidney, heart, lung and cornea transplants within the country. To reach this goal, we can no longer rely on the main source of organ donations coming from donors who are relatives of the patients; we must call upon people who voluntarily wish to donate their body tissues and organs or their whole body after death.

Many countries in the world have so far had their own law of organ donations. In our country, organ donation is still quite a new concept. Many don't even think that organ donations are acceptable with Vietnamese people's customs and beliefs. What are your opinions on this?

Dr. Phan Van Bau: Nowadays, organ and tissue donations are increasingly common and the issue is discussed widely across the world. Organ transplants are one of the greatest medical achievements of the 20th century, saving many lives. Often it is the only way to cure patients suffering from terminal diseases. If the public were made well aware of the benefit and importance of organ transplants, then more donors could come forward. The Law of Organ Donations would play an important role in the task of protecting the people's health and lives.

Would you please tell our readers about the conditions surrounding organ transplants and the interests of organ and tissue donors?

Dr. Phan Van Bau: Everyone aged 18 and over and with civil capacity, can become a registered donor. Donors can register themselves at the Department of Health.
Registered tissue or organ donors receive a campaign medal, free health care after making a donation and free regular health checks. They are also entitled to free medical insurance and will be given priority if they themselves are ever in need of an organ transplant.
Related article: