Police in the northern provinces of Lang Son, Bac Giang and Bac Ninh have arrested another seven Vietnamese over the last two days, for their involvement with an international drug trafficking ring.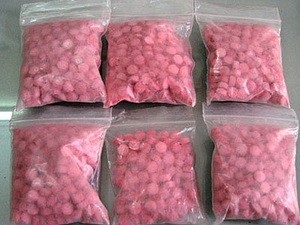 Drug tablets packed in plastic bags (internet photo)
Vu Chi Thuc, head of the Police Department in Quang Ninh Province, said that the drug trafficking ring was not just operating in provinces and cities in Vietnam but was widespread across countries like Laos, Thailand and China.
The Police Investigation Agency has so far named 25 gang members of which they have arrested 19 and are now coordinating with Interpol to hunt down the remaining six.
Police officials have so far seized 131 cakes of heroin, 114,000 drug tablets, one kilogram of crystal meth, VND1.13 billion, US$25,000 and six vehicles that were used to transport the drugs.
Since 2011, this particular gang has transported and traded 1,038 cakes of heroin, 200,000 drug tablets and 25 kilograms of crystal meth within Vietnam.
After bringing in the drugs from Laos into Vietnam via border crossings along Thanh Hoa and Quang Tri Provinces, the gang went about distributing them in Hanoi, Ho Chi Minh City and provinces like Son La, Hoa Binh, Bac Ninh, Bac Giang, Thai Nguyen, Lang Son and Quang Ninh and also into China.
The gang also managed to bring in huge volumes of drug tablets from China to sell in Vietnam.