Petrol fraud is widespread across the country, causing great loss to consumers. A limited ability to test petrol quality and light penalties are among the reasons for this situation.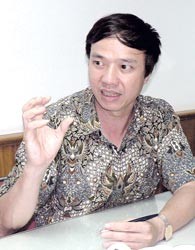 Mr. Tran Minh Dung, Chief Inspector of the Ministry of Science and Technology
Sai Gon Giai Phong interviewed Tran Minh Dung, Chief Inspector of the Ministry of Science and Technology, regarding this issue. He said petrol traders who commit trade fraud might be subject to criminal prosecution.   
Reporter: Could you give some initial results of the ongoing inspection conducted by your agency?
Mr. Dung: Since June, an inspection has been conducted across the country. It will last until the end of this year. As of August, out of more than 1,500 traders of petrol, oil and gas examined, 255 were found committing trade fraud. They were fined VND860 billion (US$51.5 million). High numbers of offenders are recorded in such provinces as Gia Lai (71 cases), An Giang (36) and Hung Yen (24).
Q: What are the most common methods of petrol fraud?
A: The most popular method of fraud is cheating in measurement, which accounted for 45.4 percent of the total offences. To gain illicit profit, many traders fixed a regulator to their petrol-gauges to make the volume petrol actually provided to consumers lower than the volume showed on the gauge.
In the provinces of Nghe An, Dak Lak and Gia Lai, we found out more than 10 traders do so for a dozen petrol gauges. The volume of petrol they secretly deprived from buyers ranged from 5.6 to 9.3 percent. Similar situations were found in other provinces like Hung Yen. Nam Dinh, Phu Tho, and Vinh Phuc.  We have called for assistance form the police to trace out the origin of such regulators.
Q: How have those traders been treated for their fraud?
A: We are facing some difficulties detecting and treating offenders. There are a few agencies capable of testing petrol samples, and a test of petrol sample takes at least one week to complete. So by the time we get the test results, the traders have sold out the volume of petrol from which samples were taken.
Another issue is the light penalty for petrol fraud fails to discourage those guilty of fraud. The maximum fine of VND20 million (US$1,200) is small compared to huge profits gained by deceitful traders. Therefore, the Ministry of Science and Technology will propose raising the maximum penalty to VND40 million.
Q: What can be done to help consumers cope with petrol fraud?
Our ministry requires science and technology departments in provinces and cities to create hot lines as a means for consumers take part in the fight against petrol fraud. At the same time, the deceitful traders must be exposed to the public on mass media, and depending on their level of infringement, they may subject to suspension or revocation of their business licenses, as well as to criminal prosecution.