A Vietnamese court yesterday started the trial of a former state employee for receiving over US$71,000 in bribes from a Korean firm in return for an investment license in the central Khanh Hoa coastal province.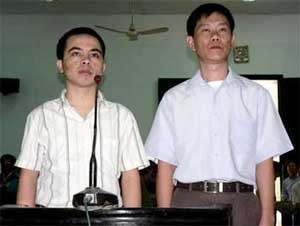 Defendants Phan Xuan Tung (R) and Nguyen Trung Thanh
Phan Xuan Tung of the provincial Department of Planning and Investment is charged with accepting the money early last year from the Sky Resort Co., Ltd which was seeking to invest in the Cam Ranh Peninsula off Khanh Hoa.
Tung at the time was assigned to perform formalities in submitting this project to local leaders for approval.
Nguyen Trung Thanh, former interpreter of Korean for Sky Resort is also standing trial for acting as an intermediary between Tung and company.
Through Thanh's interpretation, Tung claimed to be able to help expedite the formalities and thus received the bribe on six occasions.
Tung gifted Thanh US$2,000, spent US$1,500 and saved the remaining US$67,500 to his bank account.
As Tung was unable to help the company obtain the license, Sky Resort later reported the case to local authorities.
Tung already returned US$60,000 to Mr. Lee Sang Hyeok, Sky Resort Director in Viet Nam, and handed in US$10,000 to the police.
Mr. Lee was exempted from criminal responsibility for his confession and cooperation.
Meanwhile, Thanh denied earlier admissions, claiming he had not been in a clear state of mind.
Tung's senior officials including Mr. Nguyen Xuan Long, Head of the Department, his deputy Mr. Tran Ngoc Xuan, and Mr. Tran Hoa Nam, Head of the Department's investment section are free from criminal prosecution but will disciplined administratively for incompetent management.