Vu Dinh Thuan, former director of the 112 Project, an information technology modernization project for government agencies, could receive seven to eight years jail time for "abusing his position and power while executing duties."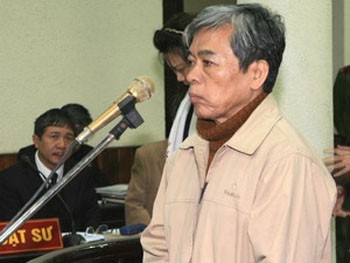 Former director of the 112 Project Vu Dinh Thuan stands trial in Hanoi on January 18. He is facing at least 7 year's jail time for his main part in a corruption scandal related to the project. (Photo: VNA)
The Hanoi city People's Procuracy proposed the sentence on January 18 in Hanoi, after a three-day hearing for the director and 22 others involved.
A similar sentence was also proposed for Mr. Thuan's junior official, Luong Cao Son, former executive secretary of the project.
According to the Procuracy's indictment, Mr. Thuan and his collaborators clearly understood the significant role of the 112 Project in relation to the country, but intentionally violated State regulations causing a loss of over VND4.6 billion (US$249 million) to the State budget. Thuan alone is accused of pocketing VND275 million. 
The Procuracy proposed five to six years' jail time for Nguyen Cat Ho, former head of the project's training team; and also for Nguyen Thuy Ha, former director of the ISA Information Technology Company, which sold equipment and software to the 112 Project.
For former director of the Judicial Publishing House Nguyen Duc Giao, a sentence of 36-42 months in jail was suggested.
Hoang Dang Bao, a former official from the Department of Administrative Reform, was proposed a sentence of two to three years in jail.
Luong Cao Son's two brothers, Luong Cao Phi and Luong Cao Phong, meanwhile, are facing sentences of 36-42 months in jail.
Ngo Thi Nham, Son's sister-in-law, was proposed three to four years in jail.
Probation sentences were suggested for a total of 10 of the accused.
It is expected that a jury will officially sentence the 23 accused over the coming weekend.