TOKYO, Japan (AP) -- The death toll in a train derailment in northern Japan rose to five on Tuesday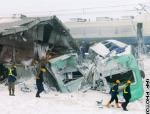 Most of the 32 injured passengers were riding in the first two cars.
when workers found an additional body in the wreckage, police said.
Another 32 people were injured in the accident.
Earlier, the Japanese government ordered emergency inspections of railway wind gauges Monday after an express train was apparently blown from the tracks in a winter storm. The government also criticized the train operator.
All six cars of the train -- reportedly traveling at up to 62 mph -- derailed Sunday evening in rural Yamagata prefecture, 180 miles (290 kilometers) north of Tokyo, rail operator JR East Co. said.
Three of the cars flipped onto their sides and skidded along the snow embankment. One of them slammed into a shed. Rescuers pulled four bodies from the wrecked front car early Monday.
A fifth body was recovered Tuesday.
The train was running about an hour late but traveling under the 74 mph speed limit in the area. It was not required to slow down despite the windy weather, JR East spokesman Jun Kubota said. Kyodo News agency reported that winds reached nearly 44 mph near the site of the wreck.
Company executive Masaki Ogata quoted the train's 29-year-old driver as saying that the train had tilted to the left after it was buffeted by a gust of wind from the right.
"Then the lights went off, and he got disoriented," Ogata said.
Most of the injured passengers were riding in the first two cars, said Yamagata police spokesman Yoshikatsu Oe. They were taken to hospitals, and none was in life-threatening condition.
Four accident investigators headed to the site Monday, and more experts were to be dispatched later in the day.
JR East executives were summoned to the Transport Ministry and handed a harshly worded warning accusing the company of "eroding public trust in the safety of the railway transit system," ministry official Hiromi Mishima said.
The wreck followed a train accident that killed 107 people in western Japan in April. High speed was blamed in that crash. (Full story)
While officials said the cause of Sunday's crash had not been pinpointed, the Transport Ministry ordered rail operators to conduct emergency inspections of wind gauges and review how they are monitored.
"We are working hard to find out what caused the accident and to prevent an accident like this from occurring again," Chief Cabinet Secretary Shinzo Abe said.
The president of JR East, Mutsutake Otsuka, apologized for the accident at a news conference Monday.
Japan prides itself on its highly efficient, punctual rail system. The country has had unusually heavy snowfall in recent days and blizzards have led to eight deaths.