Police in Ho Chi Minh City yesterday (Jan 2) arrested a journalist working at Tuoi Tre Newspaper for bribing a traffic police officer.
39-year-old Nguyen Van Khuong (pen-name Hoang Khuong) was arrested for indirectly offering a bribe to a traffic police officer, and will be detained for a period of four months pending investigation. The HCMC police also conducted a search of Khuong's house and office.
Earlier, Huynh Minh Duc, a traffic police officer in Binh Thanh District and recipient of the bribe had been taken into custody.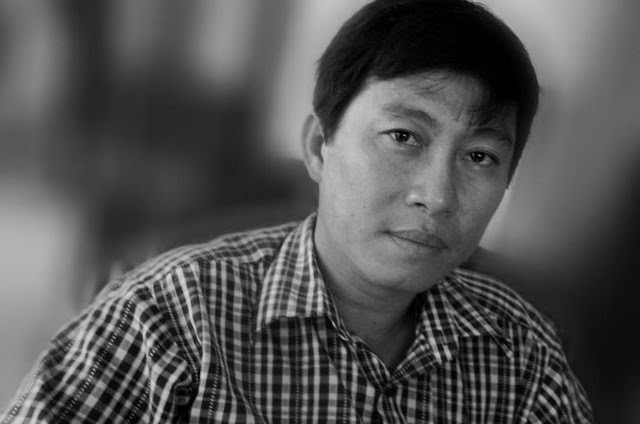 Nguyen Van Khuong (pen-name Hoang Khuong)
According to the police, in April 2011 the Binh Thanh District police had impounded the motorbike of Tran Minh Hoa, on charges of dangerous driving and participating in illegal motorbike racing.
Hoa wanted his motorbike released from police custody and in June 2011 he asked Hoang Khuong for help. At that time, Ton That Hoa, director of Duy Nguyen Private Enterprise suggested that police officer Duc could help release his motorbike to which Duc agreed.
On June 25, 2011, traffic police officer Duc accepted VND15 million (US$713) as bribe from Ton That Hoa, who acted as an intermediary. Duc soon released Hoa's bike but did not return the bike's ownership papers.
Assuming that Duc was up to some tricks, Hoa phoned Duc and threatened him, saying that Hoang Khuong would write a story in Tuoi Tre newspaper and expose Duc.
Failing to persuade Duc to return the bike papers, Khuong wrote an article titled "Traffic cop takes bribe to return bike", which was published in Tuoi Tre's Vietnamese-language daily newspaper on July 10, 2011.
On November 28, the HCMC investigation police requested Tuoi Tre and the Press Department "to review the case and revoke the press card of reporter Nguyen Van Khuong". After reviewing Khuong's actions, the Tuoi Tre Editorial Board suspended him from his post as reporter of the newspaper.
Ton That Hoa, director of Duy Nguyen Private Enterprise and Huynh Minh Duc, traffic police officer in Binh Thanh District were both subsequently detained for brokering and receiving bribe.
Police concluded that Khuong was as much involved as Hoa for offering the VND15 million bribe to police officer Duc in exchange for Duc's help in releasing a motorbike that had been impounded in a traffic violation case. This violated article 299 of the Criminal Code.
Khuong's family have asked lawyer Phan Trung Hoai, head of the Phan Trung Hoai Law Firm and lawyer Phan Duc Linh, of the HCMC Bar Association, to represent Khuong in this case.