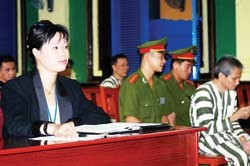 Lawyers do not want the Viet Nam Lawyers Federation to become an administrative organization
The Viet Nam Lawyers Federation, which is expected to be established in 2007, will be a professional organization; thus, the presence of two officials of the Justice Ministry as its members is not essential.

That was said by Ho Chi Minh City Lawyers Association at a Friday conference on the first-ever bar federation in Viet Nam.
HCMC lawyers disagreed with the draft project, which places two members of the Justice Ministry in the interim lawyers' council, to be presented to the Prime Minister for approval.
They said if the ministry discovers any lawyer whose practice violates the Law on Layers' regulations, which will take effect from January 1st, 2007, it can propose punishment instead.