The court deadline of September 9 has come and gone but Korean footwear company Kwang Nam has failed to pay up its social security premium arrears of VND7.02 billion.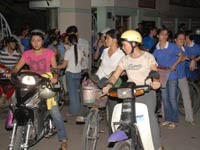 Workers of Kwang Nam Company leave work.  (Photo: Nguoi Lao Dong)
It has paid only VND500 million but authorities have a ticklish problem because the company has very little money in its bank accounts.

Bui Duc Trang, deputy director of the HCMC Social Security Office, said yesterday his office would recommend to the city government to take coercive action against the company and Kang Young Hwang, its director.

The company would not be allowed to export its products and Mr. Hwang would not be allowed to exit the country until the debts are cleared, he said.

His office has also requested the police to file a criminal charge against Kwang Nam for appropriating other people's properties and for not complying with court verdict, Mr. Trang added.
Kwang Nam, founded in 1994, employed 2,000 workers but did not pay social security premiums for them since 1996.

For the last five years the city Department of Labor, War Invalids and Social Affairs has been asking the company to make the back payments. Kwang Nam ignored the pleas.

Last year the department asked the People's Committee to revoke Kwang Nam's license.

In February this year the city Labor Inspectorate asked the State Bank of Vietnam for Kwang Nam's bank statements only to find its three accounts had only VND2,050,000 and US$ 1.30.

The HCMC Social Security dragged the company to court, and in August the Phu Nhuan District People's Court ordered Kwang Nam to pay in full by September 9.

But the firm only paid VND500 million.