A seminar about legal policies regarding sending workers abroad was held September 4 by the National Assembly Committee on Social Issues in Ho Chi Minh City.
Participants stressed the need for more stringent inspections of labor export firms, as well as creating a healthy competitive and fair environment to ensure workers' rights.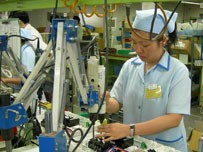 Vietnamese workers at an electronic plant in Japan.
Participants warned that some labor export companies used tricks to cheat workers and paid more money than they needed to get a contract to work abroad. In one example, some women were sent abroad but had not seen the actual fares, leading to them being cheated.
In addition, poor management and lack of experience by small-sized companies meant many issues went unresolved, whether the problems arose in Vietnam or overseas.
According to a report by the Department for Overseas Worker Management currently 165 labor export companies have licenses nationwide. However, Dang Nhu Loi, deputy chairman of the committee, said granting licenses to 165 labor export companies is too many and caused a situation of good and bad providers, making it difficult for workers to identify good firms.
Most labor export companies are found in Hanoi and Ho Chi Minh City.
Since July, 2007, around 500,000 Vietnamese workers have worked in more than 40 territories and countries and sent nearly US$2 billion back home.
Some traditional markets for Vietnamese workers are Taiwan, Japan, South Korea, Malaysia and Middle-East countries.