Market management officials in the northern province of Lao Cai December 19 seized nearly six tons of illegally imported chicken with unknown origins.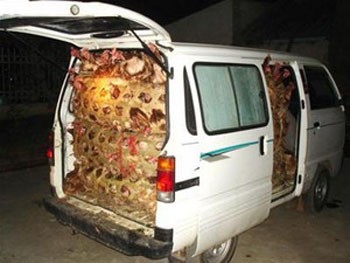 As the upcoming Tet holidays draw near, officials say the amount of illegally imported chicken into Vietnam rises
The provincial Market Management Sub-Department said it was the largest amount of contraband chicken the province had seen since the beginning of the year.
Officials said the imports were discovered in two separate cases on the same day.
The first shipment was found in Gia Phu Commune, Bao Thang District where Market management officials discovered 487 kilograms of chicken with unclear origins. It was being transported for sale by Nguyen Tich Tao from Chuong My District in Hanoi.
Authorities seized the chicken and issued Mr. Tao a fine of VND2.5 million (US$135).
A tip from local residents led officials to uncover the second case, also in Gia Phu Commune, where they seized 5,425 kilograms of chicken with unclear origins. The owner of the illegal shipment fled the area.