The Investigation Police Agency under the Ministry of Public Security confirmed on July 26 that they had decided to arrest Nguyen Thi Bich Loan, former chief accountant of the Shipping Corporation of Vietnam (Vinalines).
Loan was detained and faced criminal proceedings on charges of deliberately violating State regulations on economic management of investments in repairing of the floating wharf number 83.
This is the latest development in the case of embezzlement, deliberate wrongdoings in Vinalines--a colossal State-run shipping Company that has been under investigation for years by police agencies. After a lengthy investigation, the Ministry of Public Security, in February 2012 issued prosecution proceedings in the case.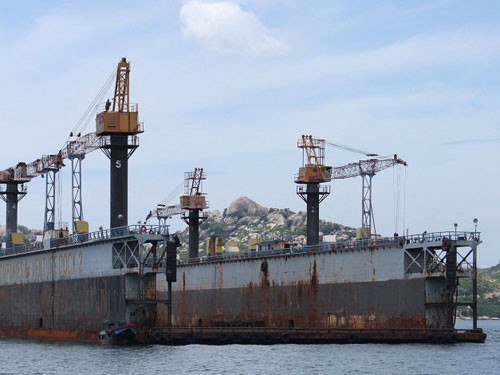 The floating wharf 83 (photo NLD)
In addition to Loan, six other persons are also to be prosecuted with the same charges as Loan. Le Van Duong, registrar; Huynh Ngoc Duc, deputy head of Customs in Khanh Hoa Province; two customs officials Le Ngoc Tiem, Le Van Lung (who shared common responsibility for importing the floating wharf 83 to Vietnam); Tran Hai Son, former director of Ships Repairing Company; and Mai Van Khang, commission staff of Project Management at Vinalines, have all been charged.
Among the accused, only Mai Van Khang has been allowed out on bail, the other defendants have all been detained.
In particular, Tran Hai Son was accused and prosecuted with additional crime, as earlier as February 2012. Son had been arrested, detained and investigated by the police agencies on charges of embezzlement of assets in mending the floating wharf 83.
The investigation agency had clarified that Son embezzled about VND900 million, by raising cost prices while repairing the floating wharf.
Duong Chi Dung, former Chairman of the Executive Board of Vinalines; Mai Van Phuc, former Director General of Vinalines and Tran Huu Chieu, former Vice Director General of Vinalines were charged for committing many wrongdoings causing the loss of more than VND100 billion to Vinalines.