National Assembly (NA) deputies on May 19 discussed revisions to the social insurance bill. The hottest problem is how the law can prevent enterprises from not paying social insurance premiums for their employees, which is popular now nationwide.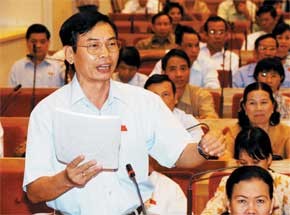 A National Assembly deputy makes a point
Deputy Dang Ngoc Tung of Ho Chi Minh City said labor unions at enterprises have to protect employees' rights and legitimate interests in this problem. Therefore, the bill should give more rights to labor unions, to enable them to ask employers and social insurance agencies to provide information about paying social insurance premiums for employees. He added the law should give labor unions rights to sue employers not paying the premiums.
Sharing this viewpoint, deputy Nguyen Dinh Xuan of Tay Ninh Province said the premiums are paid for just 15% of all the work force in Viet Nam. "Most of non-State enterprises do not pay social insurance premiums for their employees. I see that the bill's regulations cannot improve the situation," he said.
Many legislators said the Social Insurance Law must regulate strong punishments for this violation.
Deputy Nguyen Ngoc Tran of An Giang Province said the law needs a rule that any employer must have a bank account to pay social insurance premiums for employees via the account, whose control is given to the bank.
Deputy Ngo Sy Huong of Thai Nguyen Province said a solution is if employers do not pay the premiums, authorized organizations like banks or the State Treasury have the rights to transfer money from the employer's bank account to pay the premiums for the employees.   
Another problem is that many employers have avoided the premiums by signing short-term labor contract with employees for just three months, and then signing another contract. Deputy Nguyen Duc Dung of Kon Tum Province said the law should limit the contracted period down to one month, which means that even with a one-month labor contract, the employer must pay the premiums for employees.
Unemployment Insurance 
Deputies Neang Kim Chen of An Giang Province, Nguyen Thi Bang Thanh of Nam Dinh Province and Son Thi Anh Hong of Tra Vinh Province raised their concern about unemployment insurance.
Ms. Thanh said unemployment insurance will begin on the first day of 2009, and one year later, both employers and employees will have to pay 4% more for insurance because the premiums will cover both social insurance and unemployment insurance. This causes difficulties for enterprises, especially in such a hard time of competition. Employees' income could be affected, too.
However, other deputies supported unemployment insurance. Mr. Dang Ngoc Tung of Ho Chi Minh City said unemployment insurance would make many laborers happy and this insurance goes well with Viet Nam's integration to the world.
Ms. Huynh Thi Huong of Quang Nam Province said unemployment insurance is very necessary because the shake-up of State-run companies has sent many laborers out of job. She also concerns that some people want to quit their current jobs to seek a better-paid job, so unemployment insurance should not cover these people.
Deputy Nguyen Kim Cuc of Long An Province said the bill needs to clarify unemployment insurance conditions for contracted employees or workers with a labor contract of no fixed time. The covering age of unemployment insurance is also mentioned.