HA NOI (VNS) — Deputies debated surrogacy rights while discussing amendments to the marriage and family law at the 13th National Assembly's seventh working session yesterday.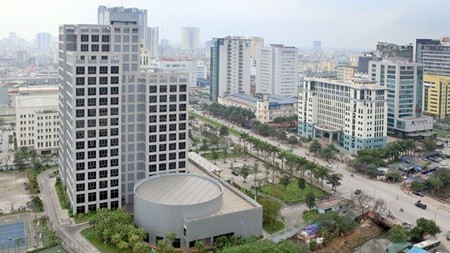 A new residential area on Duy Tan Road in Ha Noi's Cau Giay District. National Assembly deputies said that houses should be built at a range of price levels to fit the needs of home buyers. — VNS Photo Thai Ha
Many deputies said that the law should specify surrogate mothers' rights and responsibilities, as well as age, health and financial condition.
"The infertility rate in Viet Nam is about eight per cent, so these regulations would create conditions for the thousands of couples unable to have children to start a family," said deputy Nguyen Van Tuyet from Ba Ria- Vung Tau Province.
Tuyet added, however, that the law should tightly regulate the age of surrogate mothers and include sanctions for violators.
The revised law permits surrogacy for "humanitarian" reasons, but not commercial purposes, according to the NA Standing Committee's report.
Deputies Dang Thi Kim Chi from Phu Yen Province and Nguyen Van Canh from Binh Dinh Province welcomed the change but said close monitoring would be necessary to protect the rights of women and children and prevent surrogacy from being used for commercial purposes or child trafficking.
Deputies also agreed to keep the marriage age at 20 and above for men and 18 and above for woman.
They said that the current marriage age had been adequate for more than 50 years and conformed to Vietnamese culture as well as the people's physical condition.
Deputies also discussed issues relating to marriage registration, divorce and separation and same sex marriage.
Previously, the NA also heard the Government's statement and the NA report on amendments and revisions to some articles of the law on vocational training.
On the same day, NA deputies discussed draft amendments to the Law on Housing. Many agreed there was a need to revise the law so that different types of housing could be developed to meet the demand of people from all walks of life.
Deputies also agreed with a regulation on house ownership by Vietnamese nationals abroad and foreign individuals and organisations in Viet Nam.
They said these would help draw more foreign investment into Viet Nam as well as draw in more human resources. However, they added it was essential to have strict regulations to ensure national interests and security were looked after.
Some deputies proposed to revise or delete a regulation that allows the State to provide capital for housing projects for disadvantaged people. They said the State budget was limited and should only provide support via preferential policies relating to land use or credit.
The deputies also discussed draft amendments to the Real Estate Law.