Lawyers, entrusted with safeguarding the law, have not been above breaking it in Vietnam in recent years.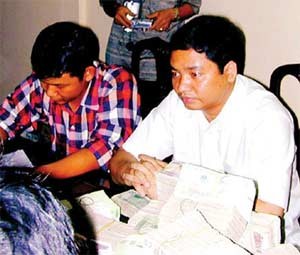 Le Bao Quoc (R) caught receiving a huge amount of money from a client in 2005 for improperly influencing a court decision. (Photo: SGGP)
In 2005 in Ho Chi Minh City, investigators from the Ministry of Public Security arrested lawyer Le Bao Quoc of the Ha Tinh Bar for taking VND2 billion (US$114,000) and US$30,000 from a client to improperly influence a court decision.
He was also accused of leaving clients in the lurch after taking his fees and using information provided by them to extort money from others. He was sentenced to 29 years in jail in 2007.
Le Quoc Trung of Hanoi was arrested in October 2008 and Nguyen Thi Quoc Khanh of Lam Dong Province in May 2009 and both have been prosecuted for "swindling to appropriate assets."
Last March Le Tran Luat of Ninh Thuan Province was fined VND4 million and disbarred for using fake documents, not reporting his office's activities, evading tax, and misappropriating clients' money.
In many other instances lawyers were caught providing clients illegal advice and inciting them to make false statements to authorities.
Acting against the State
More seriously, some like Nguyen Van Dai and Le Thi Cong Nhan have been charged with conducting propaganda against the State, using distorted information to defame the Party and State.
Recently Le Cong Dinh was arrested and prosecuted for his acts against the State. He colluded with other reactionaries in Vietnam and abroad to assemble forces and spread propaganda with a view to overthrowing the Government.
While investigating his and other similar cases, the General Department of Security has found clues suggesting that overseas reactionary organizations are seeking to incite more lawyers to act against the State.
Related articles:
Lawyers voice obstacles to defend clients
Experts say VN's lawyers are short in quantity, poor in quality