Many defense lawyers have recently complained that although the Law on Lawyers, and related laws, have generally created more favorable conditions for them to defend clients, there remain some impediments to them in dealing with investigation agencies and courts.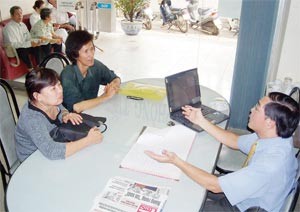 Lawyer Nghiem Xuan Ly gives legal aid to two readers of Sai Gon Giai Phong. Many lawyers complain they face obstacles resulting from poor relationships between them, investigators and the courts. (Photo: SGGP)

In many cases, lawyers have been prevented from taking part in the initial phase of an investigation, although they are authorized to do so under Article 58 of the 2003 Criminal Procedure Code.
They said that they dared not question investigators for fear that they could face problems in defending their clients.
Meanwhile, some investigators argued that lawyers' participation in cases might make them more complicated, since there were cases in which defendants retracted or changed their statement after consulting with their lawyers.
 
As a measure to remove this impediment, Colonel Phan Anh Minh, deputy director of Ho Chi Minh City Police Department, said that strict punishment would be imposed on investigators who prevent lawyers' participation in cases.
Tran Ngoc Quy, of the city's Bar Association, complained that some courts prevented lawyers from copying case-related documents, while the right to do so is provided for in Article 64 of the 2004 Civil Procedure Code.      
Instead, courts asked lawyers to register their demands for files and said they would be provided with the required documents a few days later, Mr. Quy said.
This manner was very time-consuming and affected lawyers' activities in cases, he said.
Under the Lawyers' Ethics and Professional Regulations, lawyers are not allowed to disclose their clients' secrets. But some investigation agencies maintain a different view, said some lawyers.
There were cases in which investigators asked lawyers to tell them about what defendants had provided to lawyers. When lawyers refused to do so, they were threatened they could face prosecution for not reporting crimes, according to Article 314 of the Penal Code.
Many defense lawyers said that this problem has made them fell uneasy and unsafe when defending clients.
The relationship between lawyers, investigators and courts was a "hot" issue for discussion at the first National Lawyers' Congress held recently, lawyer Phan Thong Anh said.
The Congress has called on relevant agencies to begin specific regulations governing the participation of lawyers in proceedings, he said.
There should be an inter-circular issued between legal agencies, such as the Supreme People's Court, the Supreme People's Procuracy, the Ministry of Public Security and the Ministry of Justice, he added.