An illegal beer producing operation in HCMC's District 7 was busted yesterday in a combined raid by inspectors from the Environmental Police (PC36) of HCM City Police Department, the Department of Natural Resources and Environment, Economic Police and the District 7's Medical Contingency Center.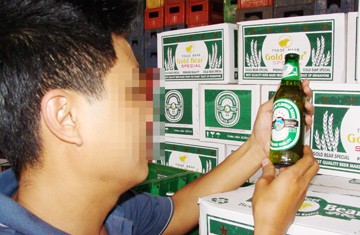 Cartons of the Gold Bear beer found without labels of origin
A large quantity of beer bottles labeled Fansaigon, Archer and Gold Bear in which the Archer and Gold Bear don't have lables of origin, were being produced by the Fan Saigon Brewery.
 
The representative of the brewery wasn't able to present its trading license, trademark registration certificate or food safety certification.
 
The inspectors also found the brewery discharging untreated wastewater into the Sai Gon River through Cau Trang canal. It did not have any facility to dispose of toxic fumes as well.
 
The inspectors suspended the brewery's effluents discharge system and ordered it to present all its certification by next Tuesday.