The Tay Ninh Province People's Court offered public apologies to a local citizen who had been wrongly sentenced to death twice by itself after overturning conviction.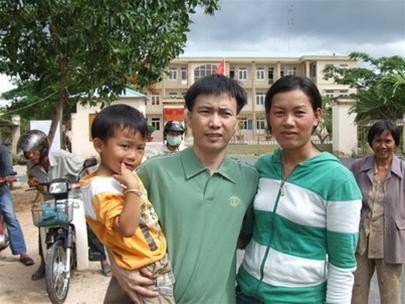 Nguyen Minh Hung and his wife and son on their reunion day (Photo: Tuoi Tre Online)
Yesterday afternoon, at the office of the People's Committee of Tan Lap Commune in Tay Ninh Province, representatives of the provincial People's Court made public apologies to Nguyen Minh Hung, resident of the commune, who had been charged with involving in a drug trafficking ring and sentenced to death twice.

In 2003, the procedural agency of Tay Ninh Province sued Hung for being a member of a ring that trafficked heroin from Cambodia into Vietnam based on investigation reports.

At the trial of the first instance, the Tay Ninh Court sentenced Hung to death.

Hung maintained his innocence and appealed to the Supreme People's Court in HCM City, which canceled the Tay Ninh Province Court 's verdict and ordered further investigation of the case.

Upon receiving the updated investigation reports, the Tay Ninh Court retried Hung and once again sentenced him to death.

Hung lodged his appeal to the Supreme Court, which again canceled the local court's verdict and ordered more investigation of the case as there was not adequate evidence for accusing Hung.

In June 2008, the Tay Ninh Province Police Investigatiion Bureau decided to cease making further investigation into the case and issue decision to release Hung from jail.