Contrary to the idleness at police stations in districts and wards within the city during the first day the Residence Law came into effect, on July 2, the second day of the law, thousands of non-residents in the city flocked to those local police bureaus capable of issuing household registers (ho khau) concerning application formalities.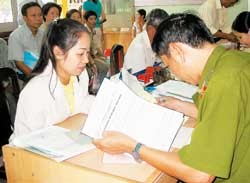 Tan Binh District ' s Policeman considers a non-residant's application for a ho khau

In Tan Binh District, where the estimated number of non- local residents qualified for a ho khau is 45,000 individuals over 16,000 households, hundreds of people came to the District Police Bureau of Administrative Management on Social Order (PC13) to make inquires.

A large crowd could also be seen at the Phu Nhuan District Police Bureau of Administrative Management on Social Order. Luckily, everything ran smoothly thanks to the preparation and training of the police force. The police officers successfully handled nearly all applications, with only a few forwarded to the District Police leaders for consideration and approval.

The non-residents that managed to obtain a ho khau appointment with the local police were extremely happy. The main two prerequisites a non-resident needs to fulfill to apply for a ho khau are that they have a legitimate residential place and that they live in the locality of the police station to which they are submitting the application.

Mr. Trinh Van Hoa, born in Thanh Hoa, a province on the North Central Coast of Viet Nam, said, " I have lived in this city for decades. I was granted a house in Tan Binh District. I am here to get through the application formalities. Since I've produced all papers required, it took me just a few minutes. I am going to go ahead with formalities to transfer the ho khau of all members of my family in Thanh Hoa to HCMC so that we can be reunited soon. I can't wait."

However, not all non-local residents can meet the two prerequisite conditions mentioned above. For many people, the condition of having a legitimate residential place is a major obstacle for them. At 4:15 p.m. at the Tan Binh District Police Station, while 131 lucky applicants made it through the application formalities, Mr. Sau Long, a motorcycle taxi driver, temporarily residing in Tan Binh District was not so successful.

Long said, "My hometown is Kien Giang. My family and I have temporarily resided in a hired house in Tan Binh District for years now, but the landlord is not willing to certify that the hired house is a legitimate residential place for us. The problem is that without a ho khau, my children still won't be admitted to public school this year."

According to the Tan Binh District's recent statistical report, 1/3 of its total population is made up of non-local residents who currently live in the locality as temporary residents and many of which live in rented rooms.

Mr. Nguyen Van Nam, owner of 20 rental rooms in the district said, "Many people have rented my rooms for over five years now, but how do I dare certify that the rented rooms are their legitimate residential places? Doing so means that I let their names be added onto my family's ho khau. What happens if I want to sell the house and ask them to move out, but they won't?"

Not only do many non-local residents in Tan Binh District face this obstacle, but also those in Phu Nhuan District and others will have to face the fears of landlords; that lessees will overstay their welcome once they obtain a ho khau in a hired house.
Related article: Police Idle on Residence Law's First Day