Police in Hanoi on July 30 arrested Dang Tran Hoai, 26, from Co Dong Commune of Son Tay Town in Hanoi, for raping a 9-year-old girl and killing her 4-year-old sister.
According to the police report, Hoai went on his motorbike to a pesticide store in Son Tay Town around 3pm on Sunday afternoon, after which he attended a wedding party in Tu Liem District where he got drunk and then took rest in the house soon after.
At that time, the house owner, 32-year-old Khuat Van Hien and his wife were not at home and finding the children alone, Hoai exploited the situation to commit the crimes.

He later told the police that when he was passing Hien's house, he saw only the two kids inside. He left his bike outside and rushed into the house to rape the 9-year-old girl, even though she screamed in pain.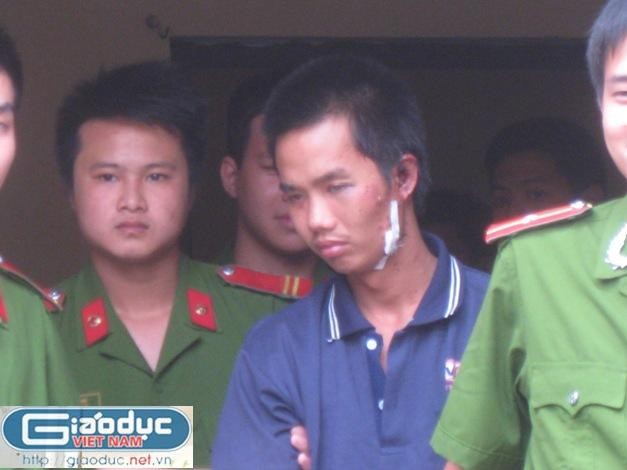 Dang Tran Hoai is being handed over to the local police
Seeing her elder sister being raped, the younger 4-year-old girl began to cry loudly. Hoai became angry and picked up a knife to slash the child many times in the face and neck until she died.
Hoai then continued raping the older girl, until the victims' uncle, Khuat Duy Phuong, who lived nearby, finally heard the screams and rushed in and fought with Hoai.
Hoai stabbed the man in the head and back and ran out onto the street.
However, by the time local people had surrounded the house and Hoai struggled to escape but his efforts were in vain.
Locals ran after Hoai, who attempted to steal two motorbikes but failed. He then stopped a car and got in, but his pursuers rushed up and seized him.
People caught hold of Hoai and handed him over to the local police, who later transferred him to the Hanoi police as it was an extremely serious case.
Hoai, who had no previous convictions, told police he committed the crime as he was drunk. His wife had also given birth to a baby 10 days before.
The raped girl was taken to Son Tay Hospital, and then later transferred to the Hanoi Obstetrics Hospital in critical condition.