The Ministry of Public Security's Investigation Police have decided to prosecute Vu Dinh Hong for counterfeiting Government documents over a land dispute in Ho Chi Minh City.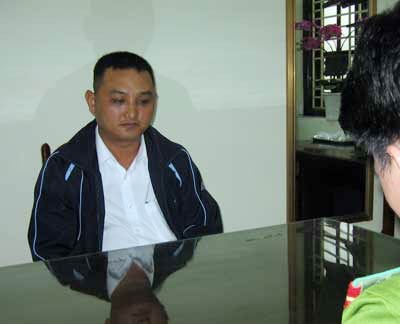 Vu Dinh Hong being interrogated by officers of the Ministry of Public Security's Investigation Police for counterfeiting Government documents
Vu Tuan Thanh and Duong Thi Chi were locked in dispute for sixteen years over a 3,200-square-meter plot of land in Tan Phu District.  

In August 2006, the city People's Committee decided that Mr Thanh had the right to use 720 square meters and Ms Chi 160 square meters. In Viet Nam, citizens still technically enjoy only the right to use, rather than own, land.

It placed the rest of the land under the management of the district administration.

Tan Phu authorities confirmed this decision through documents they issued in 2007.

Vu Tuan Binh, Mr Thanh's son, sought through an intermediary Mr. Hong's assistance to appropriate the entire land.

Mr. Hong allegedly faked two documents purported to be issued by the Government Office and Government Inspectorate.

They claimed that the Prime Minister had rescinded the HCMC decision, and the district authorities revoked their decision upon receipt of the fake documents
.
But when they sent them to the Government Office for confirmation, things came to light.

The HCMC police investigated the case but could not find evidence, and handed it over to the Ministry of Public Security.

Mr. Hong has since pleaded guilty of counterfeiting the documents, the Ministry said, making them in Hanoi.

Major General Nguyen Xuan Bich said April 7 that the investigation would be expanded before taking the case to court.

Mr. Hong, a Thanh Hoa Province native, reportedly has no fixed residence.

The investigation agency has twice sought an arrest warrant for him but the Supreme People's Procuracy has yet to issue one.