The People's Procuracy in the northern mountainous province of Bac Giang on December 21 decided to issue a stay of proceedings against 67 year old Han Duc Long and released the man who had been sentenced to death for four times and jailed for nearly 11 years.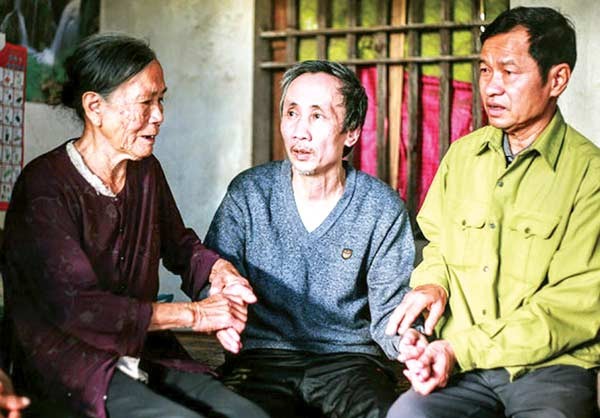 Mr. Han Duc Long (C) at his house in Phuc Son commune, Tan Yen District, Bac Giang on December 21. The man has been released after 11 years on dead row (Photo: SGGP)
Mr. Long was accused of murder and child rape but he kept saying he did not commit.
The man release accords item 2, clause 107, the Criminal Procedure Code that does not take criminal proceedings against a person for actions not constituting an offence.
The People's Procuracy has also required the Police Department of Bac Giang province, the People's Committee of Phuc Son commune, Tan Yen district to implement the decision and restore legal rights for Mr. Long as per the law.
Major general Pham Van Cac, deputy head of the General Police Department under the Ministry of Public Security, said that the ministry and the provincial People's Procuracy had liberated Mr. Long basing on the innocence presumption principle under the Criminal Procedure Law.
Right after the release, authorized agencies have taken Mr. Long to his house in Phuc Son commune.
 
"I feel so happy that I could not sleep, like on the cloud. I do believe in justice. Thank you my family and attorneys for not apprehending difficulties on the hard way to seek justice for me," Long said.
On June 26, 2005 citizens in Phuc Son commune uncovered the dead body of five year old girl Nguyen Thi Yen who went missing on the same day, according to documents relating to the case.
After four months of investigation which failed to find the culprit, Bac Giang Police decided to suspend the case and mobilized locals to denounce those taking liberties or raping.
Unexpectedly, the police force received a letter from Ms. Ngo Thi Xuyen and her daughter denouncing Mr. Long as rapist.  Investigation agency then arrested the man and at the agency's headquarters he confessed to raping and killing the five year old girl.
After four hearings from 2007 to 2011, the People's Court in Bac Giang province and the Supreme People's Court sentenced the man to death for child rape and murder. Mr. Long continuously claimed innocence at the four trials and during imprisonment time.
Therefore in 2014, the jury board of the Supreme People's Court reconsidered the case and set aside judgments in the first instance and appeal courts to reinvestigate and make clear six contradictory issues.
After many reinvestigations and supplementary investigations without new circumstances spotted, the interagency of the Bac Giang People's Court, People's Procuracy and Police Department decided a stay of proceeding and released Mr. Long because of a shortage of grounds of accusations.