After several days on the run, the man who fired at 6 police officers who had gone to his brother's house to forcibly take possession of land finally gave himself up to the police on Sunday.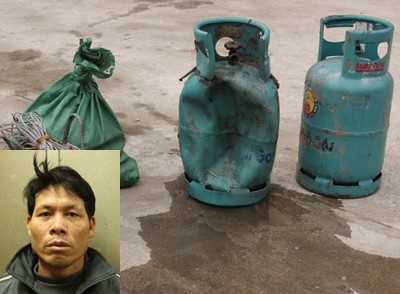 Doan Van Quy and captured exhibits
Doan Van Quy, (born 1966) the younger brother of Doan Van Vuon, gave himself up to the Investigation Police in the northern province of Hai Phong, admitting that he had indeed shot at the 6 police officers on January 5 who were on mission to take forceful possession of 50 hectares of Vuon's land.
So far, police have arrested 6 persons including Doan Van Vuon, 49, his brother Doan Van Tinh, his nephew Doan Van Ve, his son Doan Van Ve, his wife Nguyen Thi Thuong and his sister-in-law Pham Thi Hien, and are holding them for further interrogation.
However, Doan Van Quy escaped and was at large for several days in the mangrove forest of the family.
In his initial testimony, Quy stated that he was upset with the Tien Lang District's decision to reclaim the land back from his brother. Quy hence lost his cool and unable to control his anger, he shot at the police officers who had arrived to take forceful possession of the 50 hectares of land from Dao Van Vuon.
Related articles:
Police officers shot at, while on mission to reclaim land
Six family members arrested for shooting at police