Police in Binh Tan District in Ho Chi Minh City have taken into custody an unidentified man who admitted to having slit the throats of two men in front of Tan Tao A Primary School.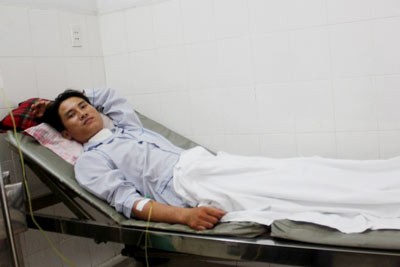 Phan Van Phuc, one of the two victims, is still in Quoc Anh Hospital for treatment (Photo: SGGP)
The culprit NVT, 33, on August 27 went to Tan Tao A Primary School where hundreds of parents were waiting to pick up their children in front of the school.

The culprit parked his motorbike and approached Ho Duc Luan, 31, hailing from the Mekong delta province of Vinh Long and slit Luan's throat.
Luan told him that his attack was a case of mistaken identity, but the culprit denied his mistake and continued to cut the throat of another parent Phan Van Phuc, 28, also from Vinh Long Province.

Phuc shouted for help and chased after the culprit; however, the unidentified man jumped on his motorbike and sped away.
The two victims were rushed to hospital for emergency treatment.

Soon after the incident, the culprit's family took him to the National Mental Hospital No.2 in the southern province of Dong Nai for treatment.

Currently, the police are doing a psychiatric check on the man.