The Ministry of Finance is asking ministries, provinces and cities, businesses and citizens' opinions about its controversial proposal to increase the environmental protection tax frame on gasoline to VND3,000-8,000 a liter.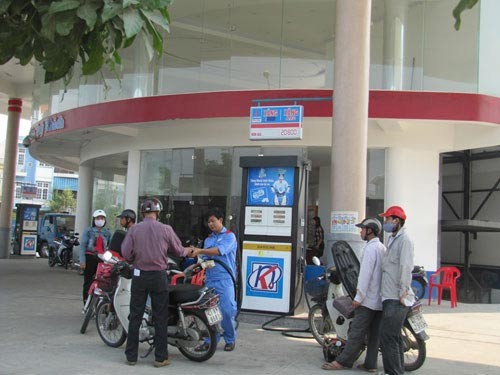 A filling station in HCMC (Photo: SGGP)
According to Minister Dinh Tien Dung, chairman of the Government Office, the ministry will not submit the proposal to the Government until the opinion collection is complete. If the proposal, made in a draft revised law on environmental protection tax law, is approved; it might strongly impact the market, rocket petrol prices and raise more difficulties for businesses and citizens.
Experts said that the proposed tax level was much higher than the current frame and such a high increase was hardly probable to make the environment cleaner, questioning the transparence and expenditure of this tax income source.
Minister Mai Tien Dung responded that the current environmental protection tax law imposes VND1,000-4,000 a liter of gasoline. The standing committee of the National Assembly has the jurisdiction to decide the specific level in each certain phase to suit socio-economic conditions and the state's environmental protection policy. At present, the tax is decided at VND3,000.
The ministry has suggested the tax hike on gasoline to VND3,000-8,000 but yet to submit the proposal to the Government. It is still in the process of drafting the changed law and asking opinions from ministries, provinces and cities, businesses and associations as well as citizens.
According to regulations on legal document issue, the ministry must complete the draft revised law on the basis of collecting and synthesizing opinions from organizations, businesses and citizens; comprehensively estimating negative and positive impacts of the policy to socio-economic conditions in short and long terms before submitting it to the Government to consider and the National Assembly to decide.
The use of income sources from environmental protection tax in general and the environmental protection tax on gasoline in separately will be transparent and public in accordance with the State Budget Law and the Environmental Protection Law, affirmed Minister Mai Tien Dung.