The Ministry of Justice recently issued guidelines to provincial and city administrations to confirm that legally privately run notaries are equal to State notaries.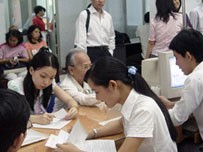 What often seen at a notary office
According to the law, state-owned notary offices and private notary offices have equal jurisdiction to certify housing transaction deeds and real estate documents, said the ministry.
In addition, all contracts related to land, which are notarized by the state or private offices have the same legal value.
Since the new notary law came into effect, many individuals and organizations were under the belief that only State notaries had jurisdiction to certify documents related to land, as the Land Law stipulated that transactions involving land use rights must be authenticated by "State notary offices."
The first eight licensed private notary offices in HCMC began operating last August, while the Hanoi administration granted licenses to 16 private notary offices a month earlier.