The Ministry of Construction has issued a circular mandating new policies for villas in urban areas.
The regulations aim to preserve villas with high architectural and historical value from being torn down or refurbished without approval.
According to the circular, villas will be classified into three separate groups. Those in Group I will have received recognition of their cultural and architectural significance by authorized agencies including provincial level People's Committees.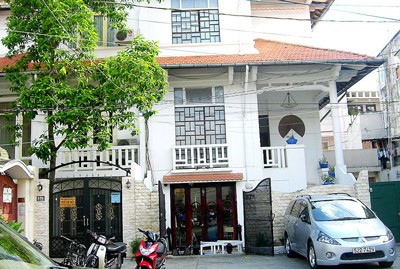 Under a new circular, when renovating or repairing a villa, the original architectural integrity of the home must be maintained. (Photo: SGGP)
Villas in Group II will have been recognized by authorities for their architectural value but not possess cultural significance.
All others will be considered Group III villas possessing a garden, private entrance and no more than three stories. In addition, the square footage may not exceed 50 percent of the total land area the villa is built on.
When renovating or repairing Group I, II villas, the structure may not be torn down completely unless it poses a safety risk. In such cases, the villa must be rebuilt with the original number of stories and at the same height. The integrity of the original structure must be maintained above all else.
In addition, the circular also forbids owners to tear down or repair villas themselves without asking authorities for permission. All work must be carried out by trained professionals.
The circular also makes clear that no poultry or cattle may be bred in villas in particular and urban areas in general, to protect the beauty and environment of neighborhoods.
In addition, businesses operating out of villas are prohibited from causing excessive noise and polluting the environment. Storing many flammable goods or explosives is likewise prohibited in urban areas.
The circular also forbids cutting down ancient trees in villa areas.
According to the circular, provincial level People's Committees will bear responsibility for issuing regulations related to the management of villas. Anyone caught abusing their power to break rules will be penalized.