After months of investigation that began last year, the police in Ho Chi Minh City have proposed to the local prosecutor to indict three people involved in a drug trafficking ring, for illegally trading in medicines used for colds that contained pseudoephedrine (PSE), used for preparing methamphetamine, a highly addictive stimulant.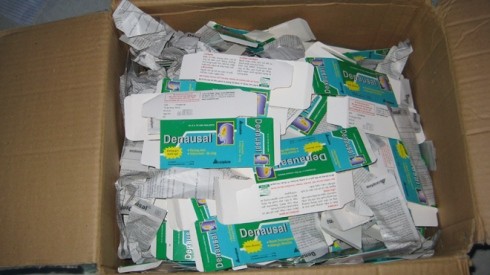 Demusal is a common medicine that has been misused for preparing drug stimulants (Photo: Tuoi Tre)
The three persons involved are staff members of BV Pharmaceutical Company, which with two other companies was allowed by the Department of Pharmaceutical Management to import more than 7.35 tons of PSE in the first 8 months of 2011, seven times more than in the entire year of 2010.
BV Pharmaceutical then used the PSE to produce about 117 million tablets for treatment of common cold and flu. Most of these manufactured tablets were then sold to the three above mentioned people.
Although these three persons were arrested, the case showed a huge gap in the management of the pharmaceutical sector in general and the management of PSE in particular.
On the other hand, there are loopholes in the present regulations that allow individuals and organizations to exploit and resell products and the ease with which companies can register for import of PSE. Moreover, cold and flu medicines can be bought without a prescription and are easily accessible for those who wish to use them as material to produce methamphetamine.
According to the present regulation, medicine trading and sale requires a practice certificate and legal qualification. However, some individuals collude with pharmaceutical companies to resell drugs with PSE. Producers just make drugs as per order, not realizing they can be misused for treating patients or for criminal purposes. Such lax management and irresponsibility of companies makes a lucrative base for drug rings to flourish.
The public is becoming increasingly concerned with more and more ecstasy tablets appearing in discothèques and bars across the country. Over the past several months, police in many provinces and cities has cracked down on numerous rings producing Methamphetamine, a kind of synthetic drug, from PSE or cold and flu medicines that contain this substance.
The Department of Pharmaceutical Management is considering the amount of PSE that drug producers can be allowed and held accountable for during manufacturing. If the amount of PSE exceeds 50 percent in the medicine, company management will be held responsible and will have to justify with reasons.
The government has sent documents to the Ministries of Public Security, Industry and Trade, and Health asking to step up control and supervision of these substances and chemicals which can be used to make harmful drugs.
The import of PSE is controlled, but its use too should be controlled, or else there is a big problem for concerned agencies to handle, including for health authorities and police.