Police have arrested four more people in connection with overcharging for Project 112, a national scheme to computerize the state administrative system.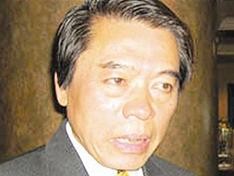 Vu Dinh Thuan, head of the management board of Project 112
Two of them are reportedly the younger brothers of Luong Cao Son, the secretary of the Project 112 Management Board who was arrested earlier in September along with project chief Vu Dinh Thuan.

Also in detention since yesterday are Cong Tuan Hai of the Map Publishing House and ISA general director Nguyen Thuy Ha.

ISA won a tender in October 2004 to supply an operating system with a bid of VND6 billion (US$375,000).

According to investigators, Vu Dinh Thuan let Luong Cao Son raise the price to VND9.1 billion (US$563,000), a claim that Thuan refutes.

Investigators have yet to determine whether Thuan actually did get his hands on the extra money.
Related article:
Computerization Project Takes Alternate Path