A court in Binh Phuoc province Friday sentenced a woman who tortured her child to two years imprisonment.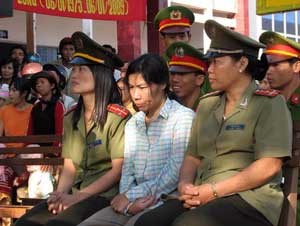 Nguyen Thi My (C) at the court
The case has attracted a lot of public attention because the woman had tortured her daughter for such a long period.
According to Phuoc Long district People's Procuracy, Nguyen Thi My cut her daughter's finger on September 13, 2008 because the three year old was cutting a VND100,000 note. Two days later My used a fruit knife to injure the child's leg.
After the police discovered the child's injury and sent her to a hospital, My refused to acknowledge Hao was her daughter, aiming to avoid punishment.
However, the results of DNA test proved Hao is her daughter.
A doctor's report said the daughter's degree of disablement was 40 percent.
Her neighbors told the police that she used to mistreat her three year old daughter.
Phuoc Long district People Procuracy suggested a 30 month sentence. But after 30 minutes of considering the verdict, the court passed a sentence of 24 months in prison and banned her from living near her daughter within 5 years.