Le Van Luyen, the brutal killer of three persons in a gruesome murder in the northern province of Bac Giang on August 24, has confessed to the crimes in his written report to the police on September 1.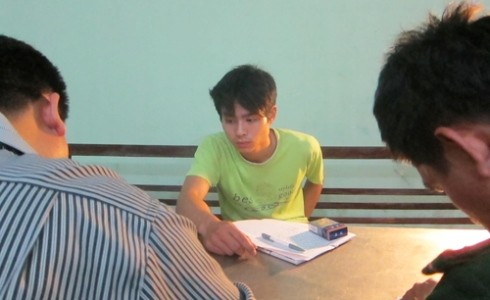 Police questioning Luyen (C) for details of gruesome murder ( Photo: Tuoi tre)
18-year-old Le Van Luyen confessed that he had spent many days studying the layout of the Ngoc Bich Jewellery shop in preparation of his plan to rob the jewellery shop owner.
On August 24 at about 2 pm, he broke into the shop but upon discovering a CCTV camera alarm, he cut it off and went to the third floor of the building to wait. 
When the owner of the gold shop, Trinh Van Ngoc, came to the third floor to hang out clothes at 5.30 am, Luyen stabbed him. Hearing her husband's shouts, the wife ran upstairs crying for help and helped her husband fight the robber.
Although the couple bravely fought the intruder, the husband was beginning to weaken as he had been stabbed several times. Luyen overpowered and killed both husband and wife.
When he went downstairs he saw the couple's nine-year-old daughter holding a cordless phone, and he slashed her hand and head until she dropped on the floor. When the couple's 19-month-old daughter began to cry, he slit her throat.
Luyen then broke the glass cabinet in the shop to take the gold jewellery. Once he had secured what he wanted, he phoned his cousin, Truong Thanh Hong, to come and fetch him.
Later, Hong took Luyen to the district medical center to stitch up the wounds on his hands. Hong then drove him to the bus station to go to the northern mountainous province of Lang Son. At the bus station, Luyen presented Hong with two gold necklaces for his efforts.
When he arrived in Lang Son, he stayed with his aunt Le Thi Dinh and hid the gold loot in a bag in the toilet.  Luyen was arrested by the Na Hinh Border Guards in Lang Son Province and later brought to Bac Giang Province for further investigation.
Police have been able to recover the murder weapon used by Luyen to kill the victims in the jewellery shop and also the bag of stolen gold jewellery from Le Thi Dinh's toilet.
Related articles:
Police arrest the murderer of jewellery owner
Police identify jewellery shop murderer
Gruesome murder of jewellery store owner