Some outlets of the My Chau drugstore chain violated safety laws several times in 2009, said the Ho Chi Minh City Department of Health (DoH) January 15.
The outlets are accused of failing to store drugs properly, not listing fixed prices, and selling noncommercial medicines without providing full information about the drugs. DoH inspectors said the outlets had been informed of their violations 10 times.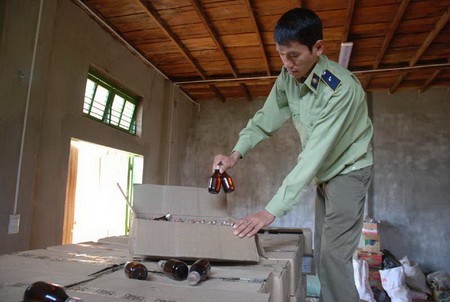 An official from Dak Lak Market Management Bureau checks expired drug containers  from Ho Chi Minh City (Photo: Tuoi tre)
Earlier, the Dak Lak Market Management Bureau uncovered a truckload of expired children's medicine being transported from HCMC to the highlands province of Dak Lak.
Bureau officials January 13 seized the drugs including 2,643 containers of the antibiotic drug Dardum and 12,000 vials of Sioplex Lysine, a growth stimulant for children. All products confiscated were past their expiry dates.
The truck's driver and a Dong Phuong Pharmaceutical Company employee told officials from the Dak Lak Market Management Bureau they were hired by the Dong Phuong Pharmaceutical Company, based in the city's District 1, to deliver the medicine to a person in Dak Lak's Ea Drang Town, Ea H'Leo District.
Dr. Nguyen Dinh Quan from the Dak Lak Health Department said the medicine would be dangerous if ingested. Expired Dardum, for instance, can cause disorders including depression in children, he said.
The deputy head of the DoH, Pham Khanh Phong Lan, said concerned agencies are continuing to investigate the case.