A hot issue discussed at the National Assembly Session on June 14 was the sudden escape of Duong Chi Dung, director of Vietnam Shipping Lines and former head of Vinalines Company.
NA Deputy Do Manh Hung from Thai Nguyen Province questioned the responsibility of the police and why Duong Chi Dung was allowed to escape. "Public opinion is unsatisfied, as we knew that earlier Dung had been summoned several times for investigation. We want clarity from the Ministry of Public Security in allowing Dung to escape."
Answering this question, Tran Dai Quang, Minister of Public Security, said he understood and shared the anger of voters nationwide about Dung's escape before a warrant was served.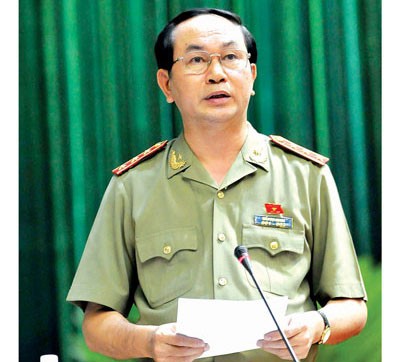 Tran Dai Quang, Minister of Public Security answers questions from NA deputies (Photo: SGGP)
According to the minister, an investigation of Vinalines had proved that Dung and some other individuals had deliberately caused offenses that resulted in serious economic damages.
Quang maintained that the investigation agency had grilled Dung and several other individuals in the case, and Dung had begun to admit his wrongdoings. Pursuing according to the provisions of the law, the investigation agencies had reported to authorities to seek permission to prosecute Dung and issue an arrest warrant in his name.
Quang added that, "By the afternoon, within minutes of receiving permission to arrest Dung, the investigation agency moved immediately to arrest Dung and a number of individuals involved. However, when they reached the location they only caught Mai VanPhuc and Tran Huu Chieu, as Dung was nowhere to be found, neither at his workplace nor at home.
The investigation agency tried to encourage his family to persuade Dung to surrender himself, and at the same time issued a high alert nationwide warrant for his arrest. The Police also attempted to collaborate with other countries to arrest Dung, in case he had fled the country, said Quang.
The minister also said that the Ministry of Public Security had directed police agencies to investigate, clarify and determine whether there was any information leak, and whosoever warned Dung of the arrest warrant must be prosecuted in accordance with law.
Replying to NA legislator Do Manh Hung about the responsibility of the Ministry of Transport in the appointment of Dung as head of Vinalines, Dinh La Thang, Minister of Transport, reaffirmed that the appointment of Dung had been made in full accordance of the provisions by the appointment and management officials of the Party.
Minister Thang reassured that the appointment of Dung was unanimous and under the provisions of law by the Party Commission of the Ministry of Transport.
He added that appointments for Vinalines were planned and not made on adhoc basis.
"However, in reference to Duong Chi Dung being prosecuted for misconduct since 2007, I on behalf of the Party Commission of the Ministry of Transport am ready to be held responsible for appointing Dung as director of Vietnam Shipping Lines."
Thang said he would bear the responsibility of monitoring, assessing and managing junior cadres. "The supervision and inspection of personnel has not been done well in this case", Minister Dinh La Thang remarked.
He also said that from this incident, lessons would be drawn concerning assessment, management and appointment of staff, and he will propose to the Government and other relevant authorities to amend some items on procurement and management policies.