Valuable woods are not subject to a resource tax decrease for fears it might unintentionally trigger worsening deforestation, voted the National Assembly's Standing Committee (NASC) yesterday.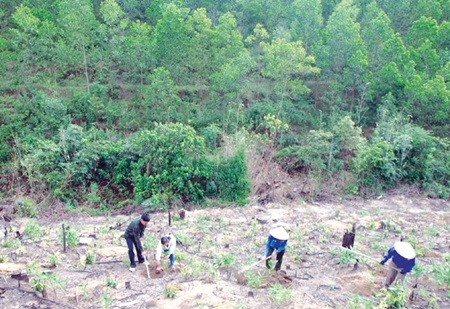 Residents plant trees in Son Duong Commune, Quang Ninh Province. The NASC voted yesterday that valuable wood should not be subject to a resource tax decrease for fears it might unintentionally trigger worsening deforestation. (Photo: VNA/VNS)
The debate on wood taxes was sparked as the NASC weighed in on the draft of the amended natural resource tax resolution yesterday morning.
The amendments were deemed by the Government as essential to help protect the country's natural resources while at the same time encouraging the advanced processing industry, said the NA Deputy Chairman Nguyen Thi Kim Ngan.
Contrary to other types of natural resources which were supposed to see a slight rise in the tax charges, timber products, according to the draft decree, were to receive a cut in tax rates.
Accordingly, taxes applied on products made from timber categorised in the first and second groups of the national woods lists, including those considered as rare and of top-notch quality like sindora or ebony, were planned to be slashed the hardest by up to five per cent down to 30 and 25 per cent respectively.
The NA's Committee on Social Affairs Chairman Truong Thi Mai agreed on the tax cuts, saying that it would help to raise the income of the residents who lived on the forests.
"There were forest caretaker families who managed to earn only VND6 million (US$266) a year," said Mai.
"It is not rightful thinking that lowering taxes might lead to more severe deforestation. If that happens, bad management is to blame, not the low taxes".
The NA's Committee on Ethnic Minority Affairs Chairman Ksor Phuoc, meanwhile, paid more attention to the sharp tax cuts in the timber products of wood groups I and II when their original high taxes were set for a reason, to discourage exploitation.
"Domestic group I and II woods are not much left with most of the timber are imported to Viet Nam from Cambodia and Laos," he said.
The forest amount of the first three wood groups were on the decreasing trend yet the reasons were still unclear so far, he added. Until the Government managed to clarify those causes, the tax cuts on those groups, about two per cent with group III, might lead to some unexpected consequences.
"Therefore I think we should hold still the tax rates on those three groups in the meantime," he said.
His idea was agreed upon by the NASC, concluding that taxes on timber products would stick to the original reduction plan except for the first three wood groups.
The amended decree was later voted through by a majority and would come into effect on July 1, 2016 to replace Resolution 712.