Prime Minister Nguyen Tan Dung has asked the ministries of Home Affairs and Construction to prepare draft resolutions for the National Assembly on the Ha Noi expansion and on a program to allow foreigners to purchase houses.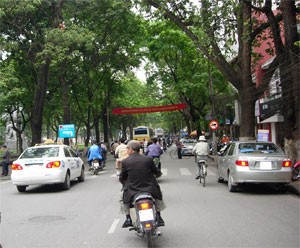 The Ha Noi expansion is expected make its total area three times bigger than now (Photo: Thuy Hang)
Reports concerning the two important resolutions will be delivered to the third session of the 12th National Assembly, which is scheduled to open on May 6 in Ha Noi.

A plan to enlarge the capital by merging it with Ha Tay Province as well as part of Vinh Phuc and Hoa Binh provinces was approved by the Ha Noi People's Council last month. It will go to the central government and to the National Assembly for approval.

After expansion, the capital of Viet Nam will have a total area of 2,700 square kilometers, more than three times than the current figure.

If the proposal about house ownership is approved, a foreigner can buy and own a house for a maximum possession time of 70 years instead of having to rent as at present. The current law does not permit foreigners to buy houses in Viet Nam.

This project would be implemented initially in Ha Noi and Ho Chi Minh City. If all goes well, it will be expanded nationwide after three to five years.