Lieutenant Colonel Vo Van Phuc, police chief of Di An District of Binh Duong Province, said that yesterday at 9 pm, the investigation agency issued a nationwide arrest warrant for 54-year-old Dao Thanh Truong, former branch director of Export-Import Bank (Eximbank) in Binh Duong Province, on charges of committing fraud.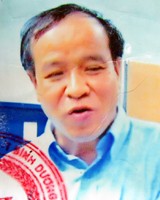 Dao Thanh Truong, the man is hunded by police (Photo: Datviet)
According to preliminary investigation, during his time as branch director of Eximbank in Binh Duong Province, Dao Thanh Truong embezzled money from the bank to invest in personal real estate.
To account for this embezzled amount, Truong fabricated ghost accounts and "persuaded" 40 households to let him borrow their names and then subsequently used the accounts to provide mortgage loans to these people.
In fact he withdrew all the money from the bank to invest into the housing market.
When the real estate market plummeted in Binh Duong Province, the land and urban housing purchased by Truong was frozen. In order to pay back the money in matured loans, Truong tried to find ways to get more money to pay the mounting debts.
He even mobilized his staff to borrow more than VND5.5 billion for short terms at high interest rates. However, with an increasing debt amount, going into billions of dong, Truong lost ability to pay and finally fled from his residence and has gone into hiding.
So far, police in Di An Town have arrested five persons who are also involved in the fraud along with Truong.