Issues relating to problems in executing new airfare regulations and a local airline's use of a foreign logo were discussed recently with SGGP by relevant agencies.

Circular 103 on "instructions for management of domestic fares and service prices at Vietnam's airports," issued by the ministries of Finance and Transport nearly a year ago has yet to be implemented in practice, the deputy head of the Civil Aviation Administration of Vietnam (CAAV), Luu Thanh Binh, said.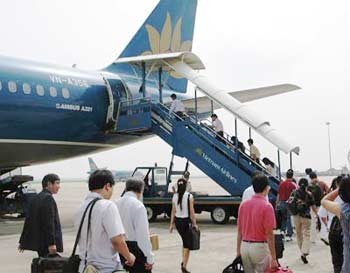 Passengers board a Vietnam Airlines plane. A new regulation on airfares has yet to be executed due to poor coordination from the Transport Ministry, experts say. (Photo: Nguoi Lao Dong)
Many firms were originally excited with the new regulation and prepared for their new operational plans, but they could not develop those plans due to a lack of coordination between agencies concerned, experts said.

The Ministry of Finance has repeatedly asked the Ministry of Transport to give its opinion about the implementation of the new regulation but has yet to receive any feedback.

In an official letter dated October 8 to the Transport Ministry, the Finance Ministry said: "The Finance Ministry has so far not received any opinion from the Transport Ministry and the CAAV about coordination between relevant agencies to enforce the new regulation."

In response to the non-execution of the Circular, the deputy head of the Price Management Department under the Finance Ministry, Vu Cong Chinh, said "It's the responsibility of the Transport Ministry."

"Management decentralization in the field is very clear, but the Transport Ministry has been tardy in enforcing the new regulation," he added.
Meanwhile, Mr. Binh pointed out that "it is the Civil Aviation Law that hampers the execution of the Circular."
The Circular requires that the ceiling prices of airfares be removed for some routes that see competition between local airlines, but the law regulates that airfares be under the State's management, he said.

Transport Ministry to seek solution for JPA

The Deputy Minister of Industry and Trade, Le Danh Vinh, was asked about the domestic carrier Pacific Airlines, which turned itself into Jetstar Pacific Airlines (JPA) in May 2008, through the brand name of Australian budget airline "Jetstar."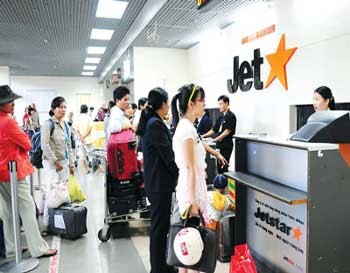 Jetstar Pacific Airlines' passengers at Tan Son Nhat Airport. The Transport Ministry says it will work with JPA to work out a solution for issues related to the firm's brand name and logo (Photo: SGGP)
In a document, he replied: "Since domestic air transport is included in the list of goods and services, subject to conditions. Therefore, our view is that JPA can operate only when it has a proper license from the agency in charge – the Ministry of Transport."

One month after Pacific Airlines chose to use "Jetstar" and the logo of the Australian company, the CAAV also issued a warning to JPA to advise them not to do so, but the situation remains.

Experts blamed the prolonged problem on the Transport Ministry, complaining that it should have decisively prevented Pacific Airlines from doing so right from the start, since the treating of such a case belongs to the ministry's authority.

In a document dated October 30 to the Transport Ministry, Vietnam Airlines emphasized that the Vietnam's Civil Aviation Law, as well as the international practice, does not allow foreign firms to operate on domestic routes.

The national carrier asked the ministry to promulgate a regulation on using brand names and logos in air transportation.

Recently, on the sidelines of the ongoing National Assembly session in Hanoi, Transport Minister Ho Nghia Dung said his agency would directly work with JPA and its biggest shareholder, the State Capital Investment Corporation (SCIC), to seek a feasible solution.

The ministry's view is to facilitate the firm's operation, but problems related to its name and logo must be resolved at the upcoming meeting, he said.

Related articles:
Jetstar Pacific using trademark name illegally: CAAV
Agencies debate Jetstar Pacific's use of foreign brand name, logo
Gov't seeks transparency in low-cost airline JPA