A new five-floor Pizza Hut on Huynh Thuc Khang Street in Ha Noi's Dong Da District collapsed into rubble at 4pm yesterday afternoon, mere hours before it was scheduled to be inaugurated today.
District police on the scene told Viet Nam News that no casualties had been reported, but refused to provide further information.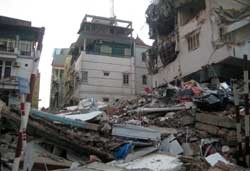 A new five-floor Pizza Hut collapsed yesterday afternoon on Ha Noi's Huynh Thuc Khang Street.
The collapse also caused massive damage to the adjacent five-floor residential building and the Dang Khoa computer shop.
Vu Xuan Truong, a security guard at the computer shop, said dozens of people, including staff and residents, were all evacuated about one hour before the collapse.
A crack was discovered in the wall of the newly-renovated structure at around 2pm and quickly reported to local authorities, he said.
"The house tilted gradually but then it finally collapsed so quickly. I heard a loud noise before I lost all vision because dust had filled the air," said Nguyen Hoang Viet, a witness who lives in the neighbourhood.
An unnamed man on the scene told Viet Nam News that he was among several workers hired to tear down the front walls of the structure last December to make way for full-length windows.
"I think the accident might be traced back to the removal of too many concrete walls," he said.
Viet said the house was first erected in the mid 1990s and had been let out for a long time. It was most recently a guest house.
Traffic was backed up for more than five hours after the incident with rubberneckers and large clean-up vehicles clogging the road.
Firefighters started clearing the rubble at 9pm.
Pizza Hut representatives were unreachable after the incident