Real estate trading firms must have at least VND6 billion (US$375,000) of legal capital, and those conducting real estate business or providing real estate services must have related certificates to their fields, according to a decree detailing new guidelines for the Law on Real Estate Transaction issued last week.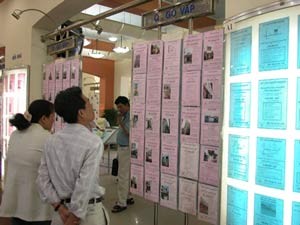 Customers check out properties' information in a real estate trading floor
The law, which has been in effect since January 2007, also stated that developers can use deposits from their clients to build property, however, the deposits can only be used following strict guidelines after the construction has begun.

The decree mandates that investors must provide 20 percent of the initial capital for all projects in new urban areas or industrial zones. For smaller projects, less than 20 hectares, the rate is 15 percent; housing projects over 20 hectares require the 20 percent rate.

The new guidelines also state that those who want to conduct real estate business or provide real estate services must receive proper training in the related fields.
Individual brokers must be properly registered and possess the required brokerage certificates.

Additionally, to become a real estate appraiser, an individual must receive training in real estate appraisal and have a college or university degree.

According to Mr. Nguyen Manh Ha, Head of the House Management Bureau, individuals and organizations who lack of the required number of licensed brokers and appraisers can still be granted business registration certificates as long as they can submit the required documents before the deadline of December 31 2008.

After January 1, 2009, individuals and organizations conducting real estate business or providing real estate services must have sufficient licensed staff, and brokers and appraisers must be certified in their relative fields.