Cadres and civil servants will be fired if they fail to complete their duties two years in a row, according to a new law set to take effect next month.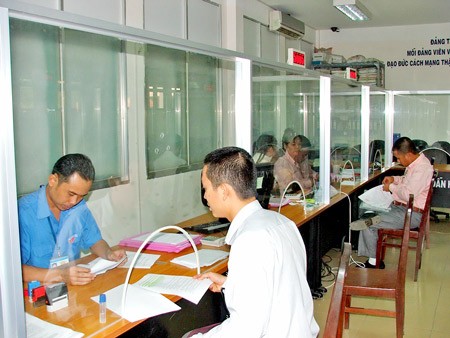 An official receives procedures for construction at the Department of Construction in Ho Chi Minh City. (Photo: SGGP)
Director of the Ho Chi Minh City Department of Home Affairs Dang Cong Luan, spoke with SGGP recently about the new law on cadres and civil servants.
He said it will replace regulations issued in 1998 and modify and supplement other regulations issued in 2000 and 2003.
The new law will come into effect on January 1, 2010.
Mr. Luan said many regulations have been changed and made clearer in the new law including recruitment policies, and selection and treatment of cadres and civil servants. In addition, staff will now be paid according to their skills and contributions.
In regards to recruitment, the new law strives to make the process objective, transparent, public and legal.
The law also stipulates that heads of companies must take measures to prevent corruption and bureaucracy while practicing thrift and curbing wastefulness. In addition, company leaders must take responsibility for all conduct at their business including corruption and squandering of funds.
Most importantly, cadres and civil servants will be evaluated annually before elections or assignments.
If they fail to achieve a good performance after one year, cadres and civil servants may be transferred to another area, according to the law.
If their duties are not accomplished two years in a row, cadres and civil servant may be fired.
The law also stipulates the duties and jurisdiction of cadre and civil servant investigators in regards to recruitment, assignment, training, alternation, evaluation, commendation, and rewards. These regulations strive to reduce corruption related to rank attainment and decrease recruitment violations.
The law maintains six articles relating to disciplinary action as before, but in the new law cadres and civil servants will be demoted in position instead of in rank. This new regulation will be applied to leaders and managers, said Mr. Luan.