Discarded phones and tablets are among waste products that will be retrieved and processed from January 1, 2015, under a decision taken by Prime Minister Nguyen Tan Dung.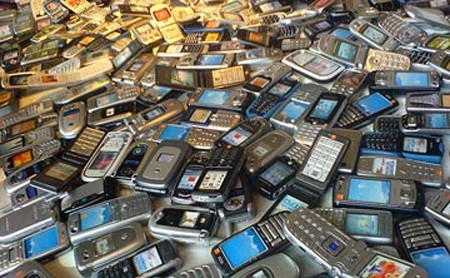 Discarded phones and tablets are among waste products that will be retrieved and processed from January 1, 2015. — Photo vietnamnet
Designed to improve environment protection efforts in the country, the decision divides waste products into six groups: batteries and accumulators; electronic devices, industrial and household electricity products; chemicals used in industry, agriculture, fisheries and medicines for human use; oil and lubricants; tires and inner tubes; and vehicles.
Manufacturers, importers, consumers, organisations and individuals involved in the retrieval and disposal of discarded products in Viet Nam will have to abide by the new decision.
Enterprises producing and importing waste products will be responsible for setting up points of collection, dealing with consumers on transferring and receiving waste products at the collection points, and transporting waste products to processing facilities.
However, both residents and enterprises have said they are still confused about several aspects of the decision.
For instance, deciding when to discard a product is difficult as many of them do not have an expiry date.
A Samsung Vina Electronics Co. Ltd representative told the Gia dinh va Xa hoi (Family and Society) Newspaper that the company was yet to receive any information from authorised agencies about the decision.
When it was implemented, the company would inform customers of the decision's provisions via the media, the representative said.
A Canon Viet Nam representative told the newspaper that there was no expiry date for electronic products and consumers would use them until they broke down.
Nguyen Quang Tien, a resident of Hai Ba Trung District, also told the newspaper that he had no idea about expiry dates for electronics products, particularly products like mobile phones and tablets.
"We often use these products until they break and will throw discarded products away or sell them to scrap-iron dealers.
"However, if the decision comes into effect, we are willing to hand in unused products," he said.
Duong Thanh An, head of the Policy and Law Department of the Viet Nam Environment Administration, told the Phap luat va Doi song (Law and Life) Newspaper that under current regulations, manufacturers must publicise the life of their products.
However, consumers could continue using them beyond their expiry dates if they were still usable, and handed over those they were not using or have stopped using to authorised agencies for proper disposal, he said.
In many other countries, manufacturers were now responsible for collecting and processing the discarded products, and this would apply in Viet Nam now, he said,
The Ministry of Natural Resources and Environment was drafting a circular with guidelines for both residents and businesses on implementing the decision, he added.