Several new Government policies take effect on January 1, regulating civil servants' responsibilities, minimum wages, health insurance, use of public land, smoking in public areas, and licensing karaoke and discotheques.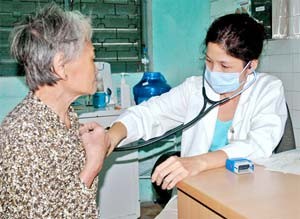 A woman covered by health insurance receives treatment at People's Hospital 115 in Ho Chi Minh City (Photo: SGGP)
Civil servants to be sacked for failing to fulfill duties 

According to the Law on Cadres and Civil Servants, public employees who fail to carry out their assigned tasks for two consecutive years are subject to dismissal. 
 
Hard working employees who, however, lack the skills required for their job, will be transferred to other offices.

Paying compensation to disturbed people

Under the Law on State Compensation, if a State agency commits wrongdoings and causes losses to people, it must pay them compensation.

If the losses are caused by civil servants' faults, they have to pay a part of the compensation.

Increase in minimum wage 

Under Decree 97 passed on October 30 by the Government, the minimum wage at domestic businesses has been increased to VND730,000--VND980,000, depending on which of the four regions of the country it is based in. 

At foreign-invested enterprises or organizations, it ranges from VND1 million to VND1.34 million.

Health insurance
 
Under the Government's Decree 62, a health insurance premium of 4.5 percent of the salary or pension should be paid every month.

As for students, the premium is equivalent to 3 percent of the local minimum wage.

Fine for smoking in public areas

People caught smoking in public places like classrooms, cinemas, libraries, factories and offices, health facilities, public vehicles, areas vulnerable to fire or explosion, and others are subject to a warning or a fine of VND50,000-VND100,000, according to Decision 1315 by the Prime Minister.

Tardy use of land

People failing to use land allocated to them for cultivation are subject to a fine of VND500,000-2 million, under the Government's Decree 105/2009.

As for land allotted for industrial or service projects, the fine will range from VND2 million to 10 million if it is not put to use within 12 months from the date of allocation.

Licensing discos, karaoke parlors again

Under Decree 103/2009, the Government has resumed licensing of dance halls and karaoke parlors after a four-year hiatus.