Inspectors from the Ministry of Information and Communications have fined the Doi Song va Phap Luat (Health and Law) and Suc khoe cong dong (Public Health) newspapers for violating an advertising code.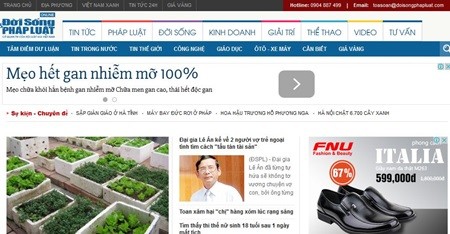 Doi Song va Phap Luat (Health and Life) newspaper is fined for violating an advertising code. — Photo baotintuc.vn
The Ministry of Information and Communication (MOIC) said the two newspapers had committed an administrative violation by advertising the An Thuy Khang dietary supplement in their January 16, 2015 issue and the Yuca TD dietary supplement in issues from January 21 to 27, 2014, which was not in compliance with the rules and did not carry content approved by the relevant authorities.
The two newspapers were fined VND25 million (US$1,157) each and have been asked to correct the advertisement for products in accordance with the law.
The fines were levied in compliance with point A, Clause 2, Article 70 of a Government Decree and regulations on administrative violations in the culture, sports, tourism and advertising sectors.
Earlier, the Ministry Inspectorate had imposed administrative fines on Viet Nam SunTek One Member Co. Ltd. of VND 3.5 million (US$162) for selling equipment that is yet to be approved by MOIC