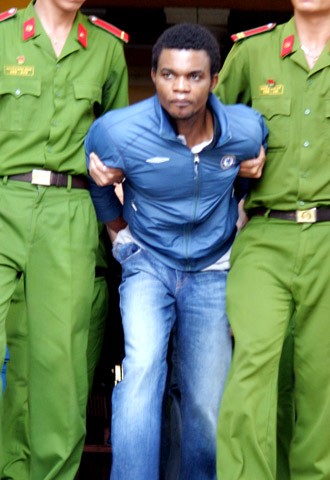 33-year-old Nigerian national, Nanji David Ete, was sentenced to death on April 22 for illegal drug trafficking.(Photo:tin247)
The Ho Chi Minh City Peoples' Court on April 22 passed the death sentence on Nanji David Ete, a 33-year-old Nigerian and a life imprisonment sentence on his wife, Phan Thi Thanh Le, a 30-year-old Vietnamese, after the couple were caught red-handed transporting drugs illegally.
Nguyen Minh Chau, a 32-year-old Vietnamese was also sentenced to life imprisonment for the same crime.
The city court also sentenced Regina Whing Wiri, a Zimbabwean, Chukwuma Obi Remy, Okapor Peter Chuma and Nnamdi Aghaji from Nigeria for the same crime to 15-20 years in prison.
Since 2006, Nanji David Ete had set up a drug trafficking ring for transporting drugs illegally through Vietnam and directly selling and buying drugs for some Nigerians in Malaysia, China, India and Pakistan. The drugs were smuggled into Vietnam and then onto China.
By June 2009, police had uncovered their drug ring and finally caught them red handed as they made a successful transaction of nearly 11.5 kilograms of heroin.