The National Environment Police Department August 18 announced an investigation into the illegal importing of nearly 600 barrels of harmful waste from Taiwan through Cat Lai por by Cao Thang Construction and Trade Co.Ltd, Binh Duong Province, said a bureau official.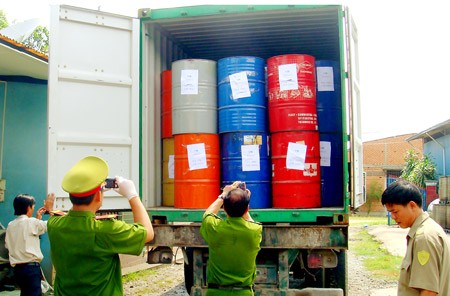 Police officers discover barrels of hazardous waste imported by Cao Thang Co. Ltd. (Photo: SGGP)
The company allegedly declared on a customs form that it had imported methanol from Taiwan.
The bureau said another linked company, Dai Dong Production and Trade, is the owner of nearly 600 barrels of harmful waste but that Cao Thang Company bore responsibility for importing them.
Explaining to the bureau on August 18, its director, Ho Thi Ngoc Thuy, said she is just the nominal director, the real work is done by Yu Sheng Liang, a Taiwanese man, who occasionally visits Vietnam.
Ms. Thuy is paid VND5 million per month in her position as "nominal director."
According to the investigation, the bureau said the director of Dai Dong is Thuy's husband, Chau Phong Si. Officials said he bore responsibility to produce import-export documents.
Currently, all of the harmful waste, imported in two containers, and Dai Dong's stock were blocked and samples taken.
On the same day, the bureau also asked Ho Chi Minh City customs officers to explain how harmful waste was allowed to be imported.
Cao Thang is located in Di An District, Binh Duong Province. The company does not have any official signings of its presence nor staff except Ms Thuy.
Related article:
Wastewater imported from Taiwan illegally seized in Binh Duong